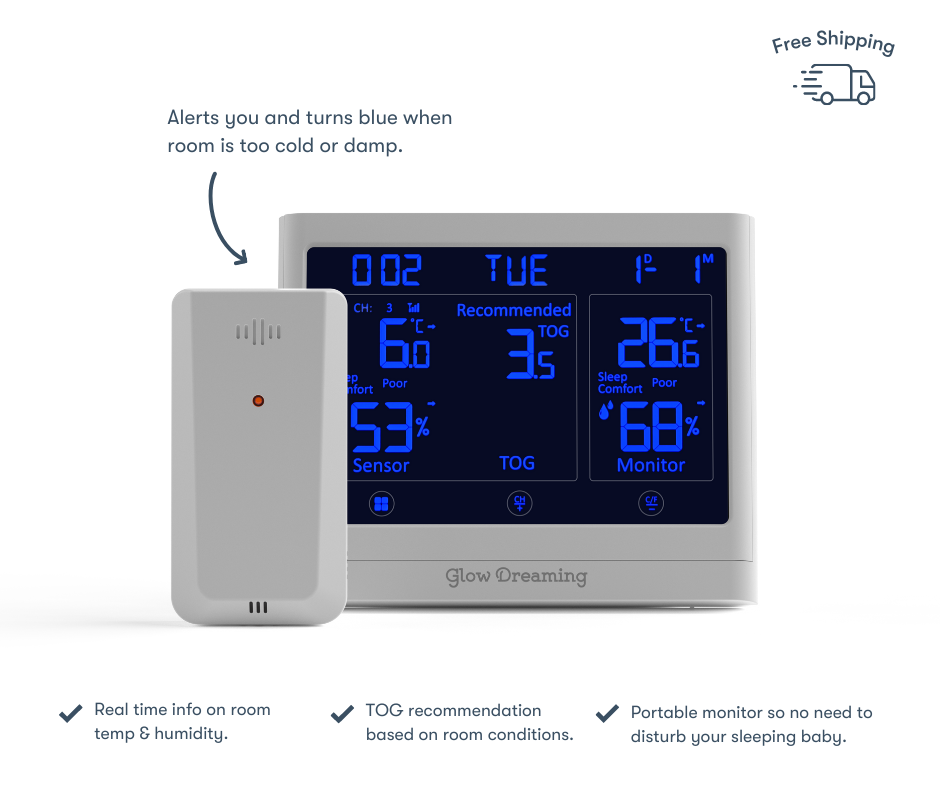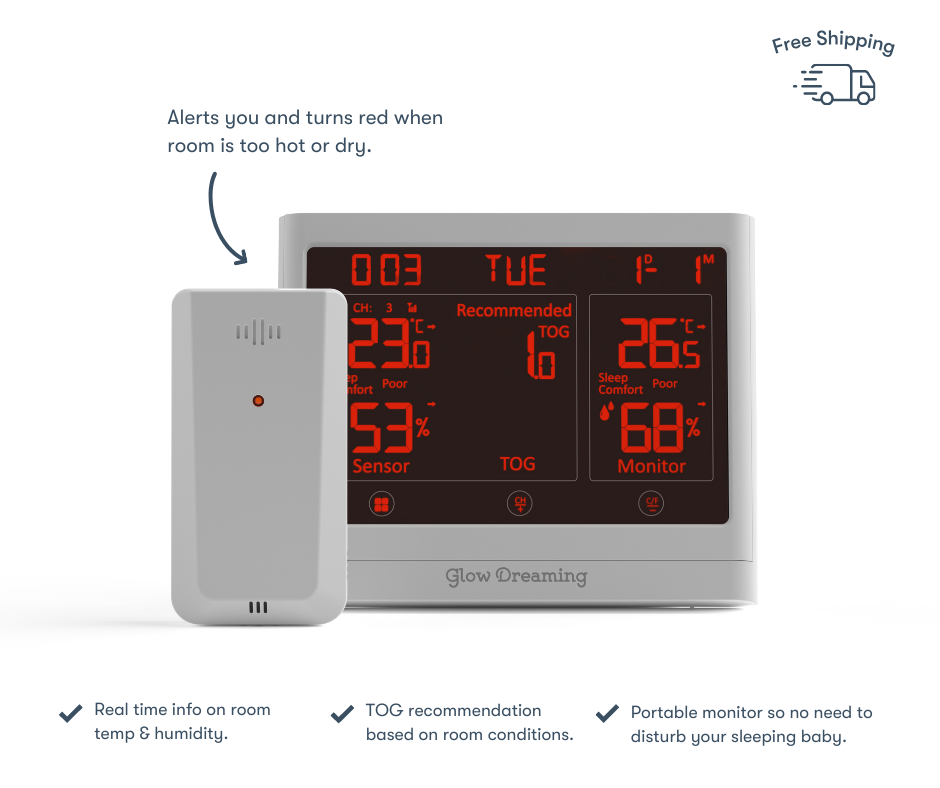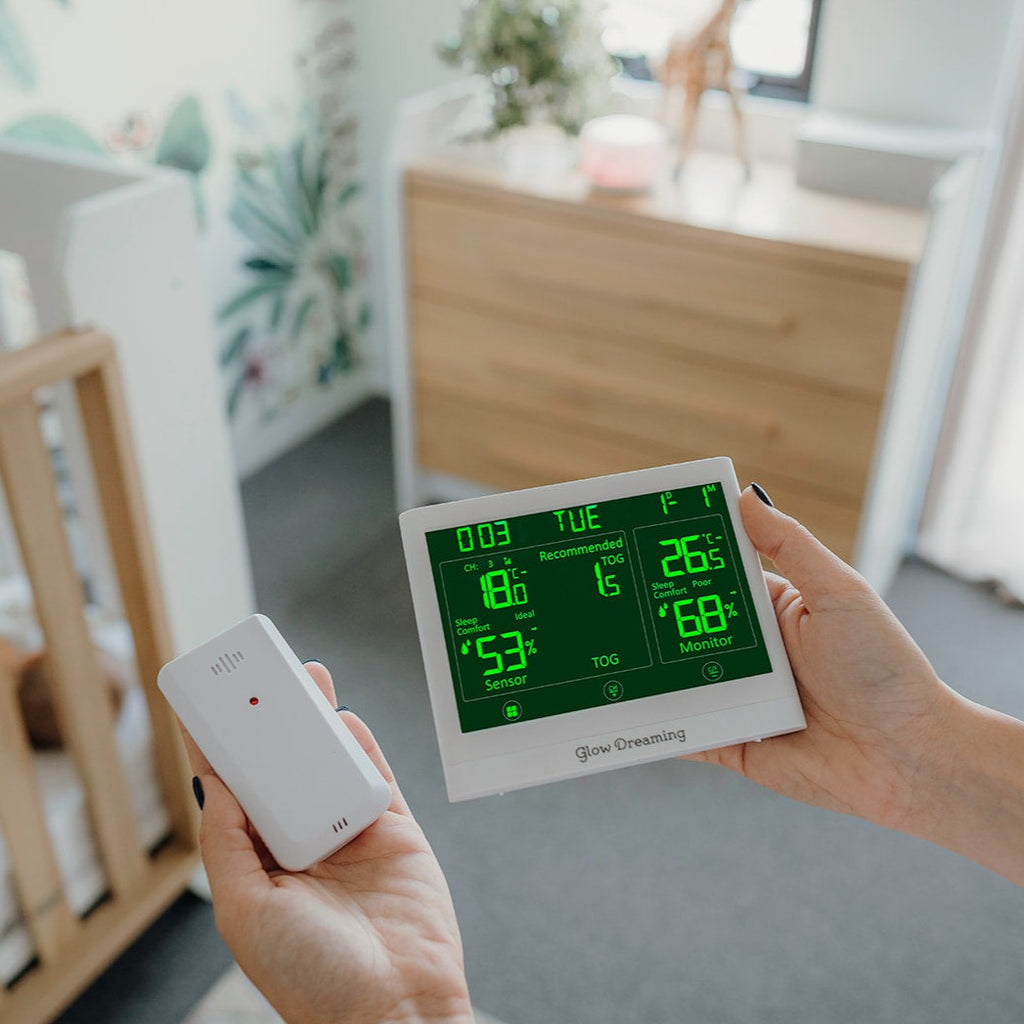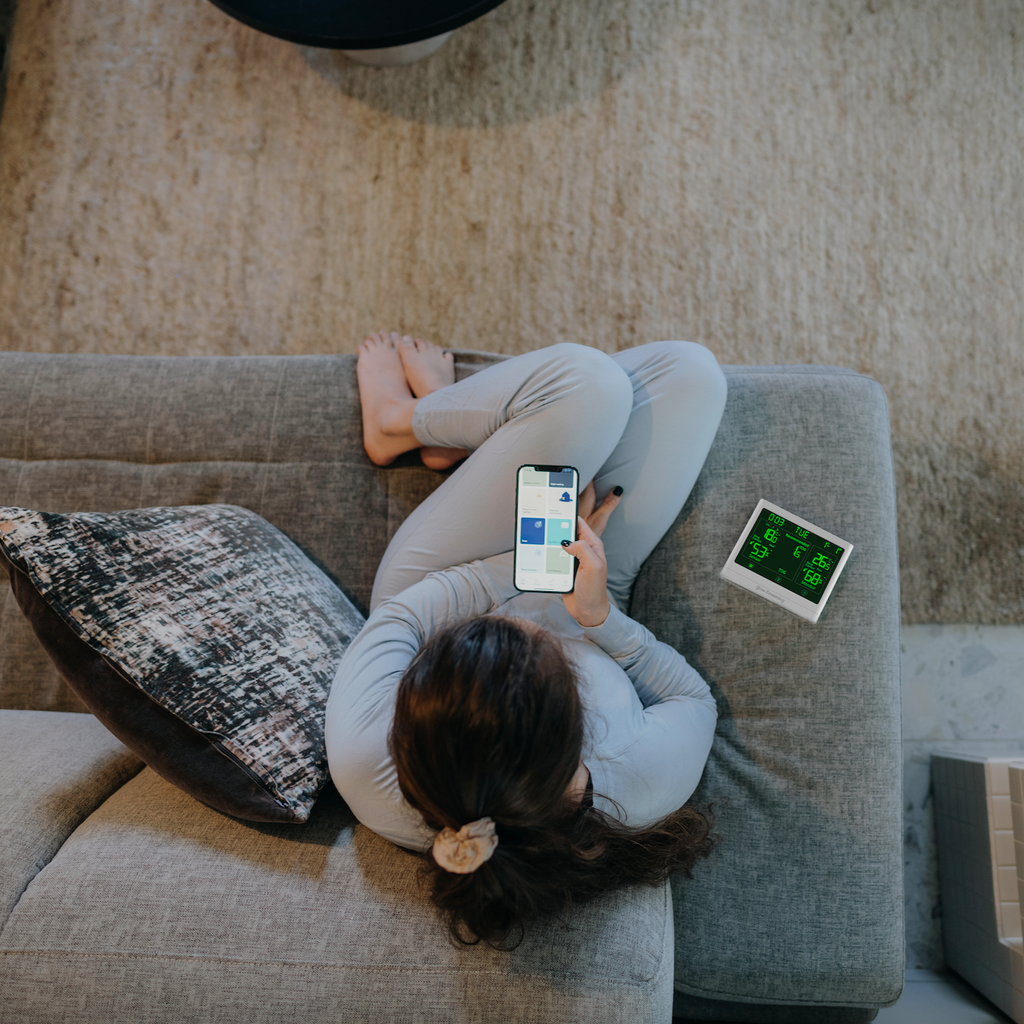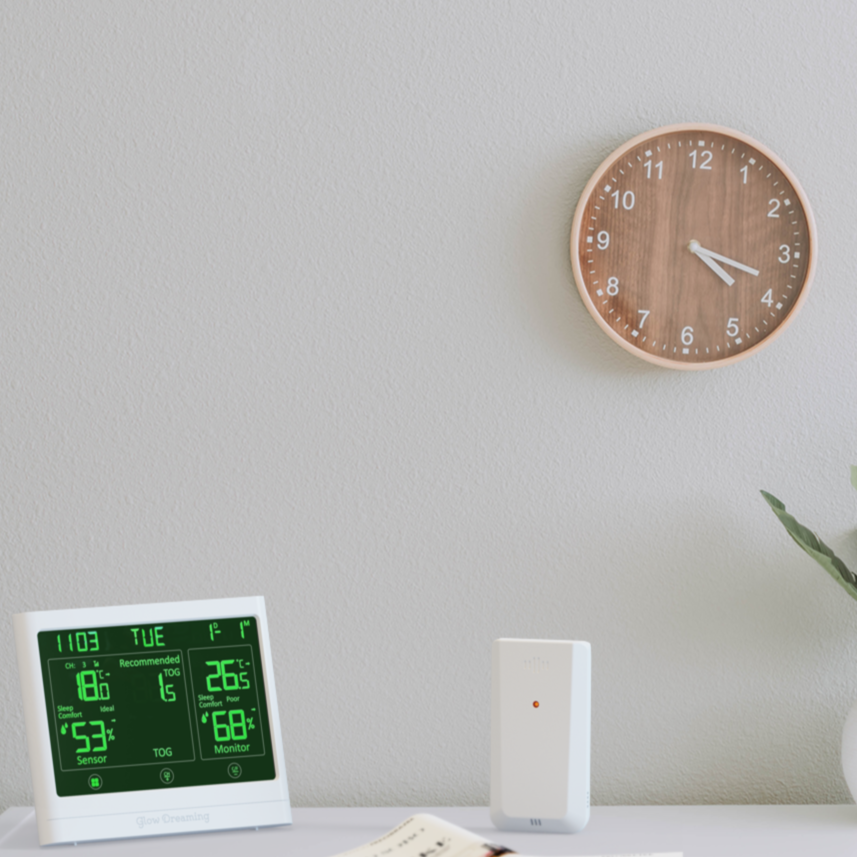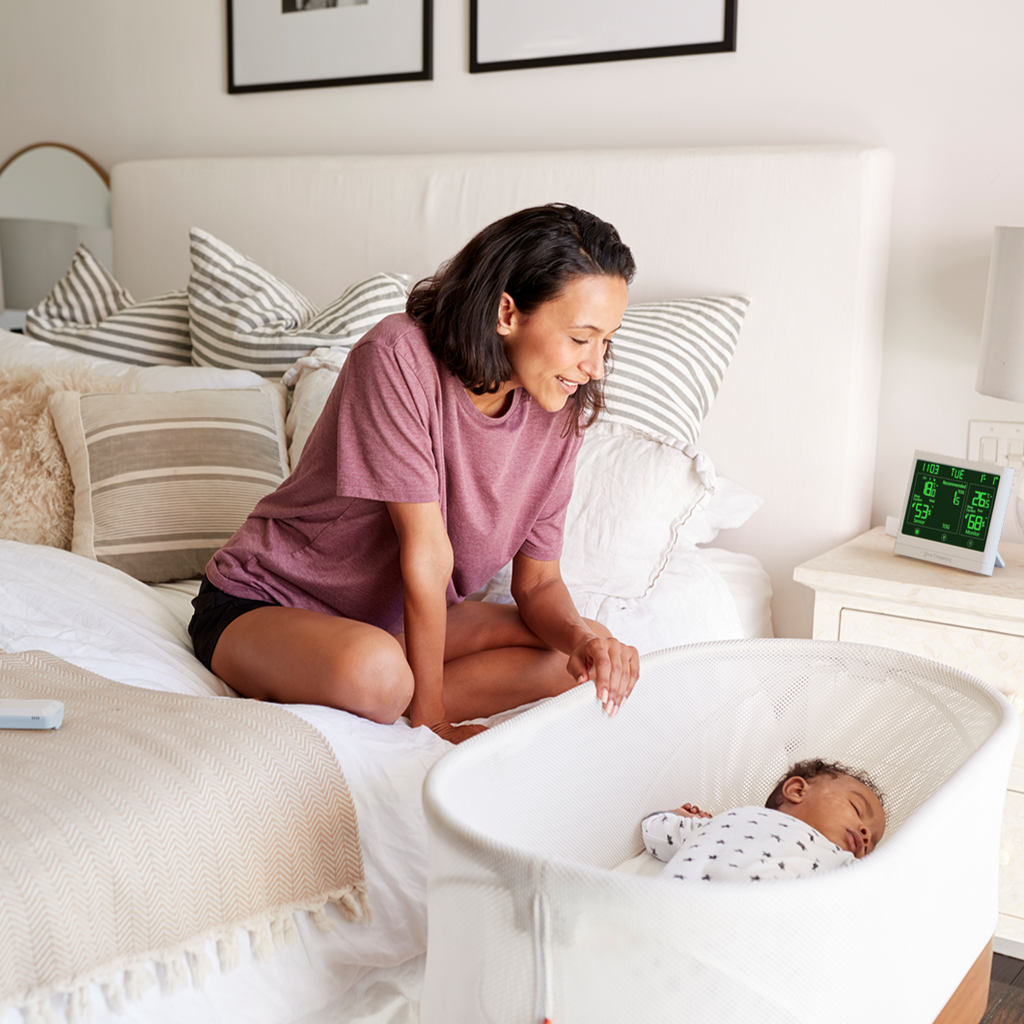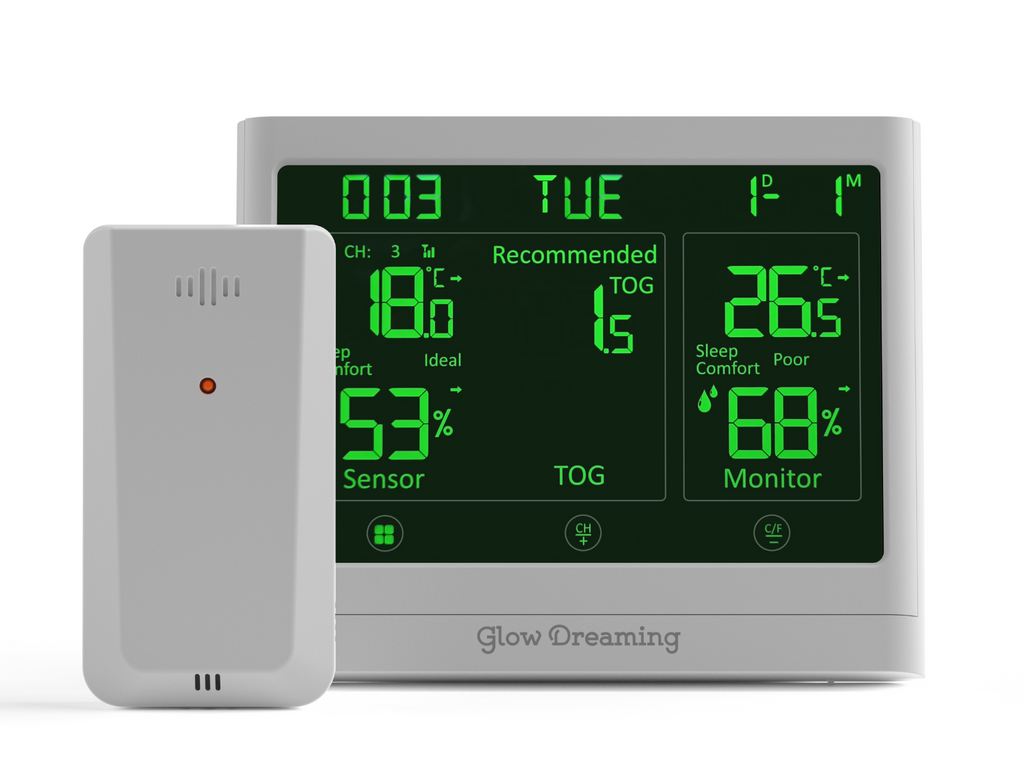 Glow Perfect Sleep Sensor
Regular price
$139.95 AUD
Regular price
Sale price
$139.95 AUD
Unit price
per
What's in the Box

- Glow Perfect Sleep Sensor (Parent Screen)
- Room Sensor
- Power Cord
- 30-Night Money-Back Sleep Guarantee (Digital Product)
Key benefits

Know the temperature and humidity of your child's room.

Advises how to best dress your child (TOG).

Portable screen can go with you anywhere in the house.

Remote room sensor so no need to disturb your little one.

Live, real time information.
Shipping & Returns

This bundle includes our 30-Night Money-Back Sleep Guarantee! This guarantee is only available for a limited time only!
If you are not 100% satisfied for any reason, we will be happy to provide a full refund for up to 30 days from the day your Glow Perfect Sleep Sensor is delivered to you.

In order to bring you the best possible service we currently offer FREE DELIVERY for AU & NZ customers. Our Warehouse works hard to process your orders as quickly as possible, most orders are dispatched within 1 business day.
30 Night Money-Back Guarantee!

Unsure? Get in touch with our Sleep Experts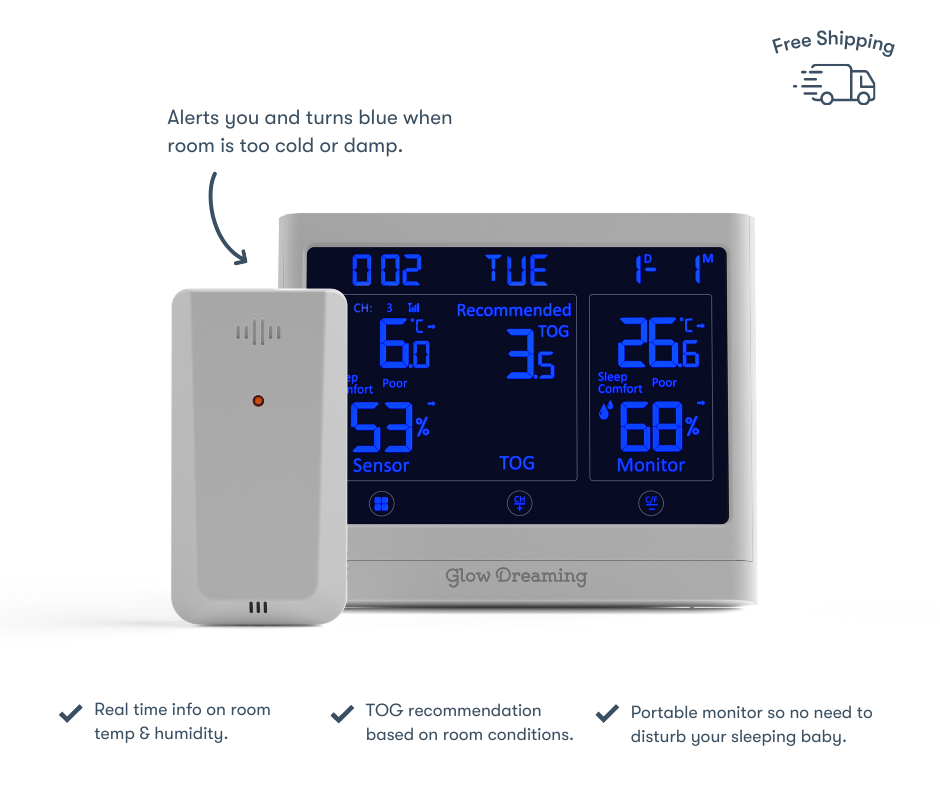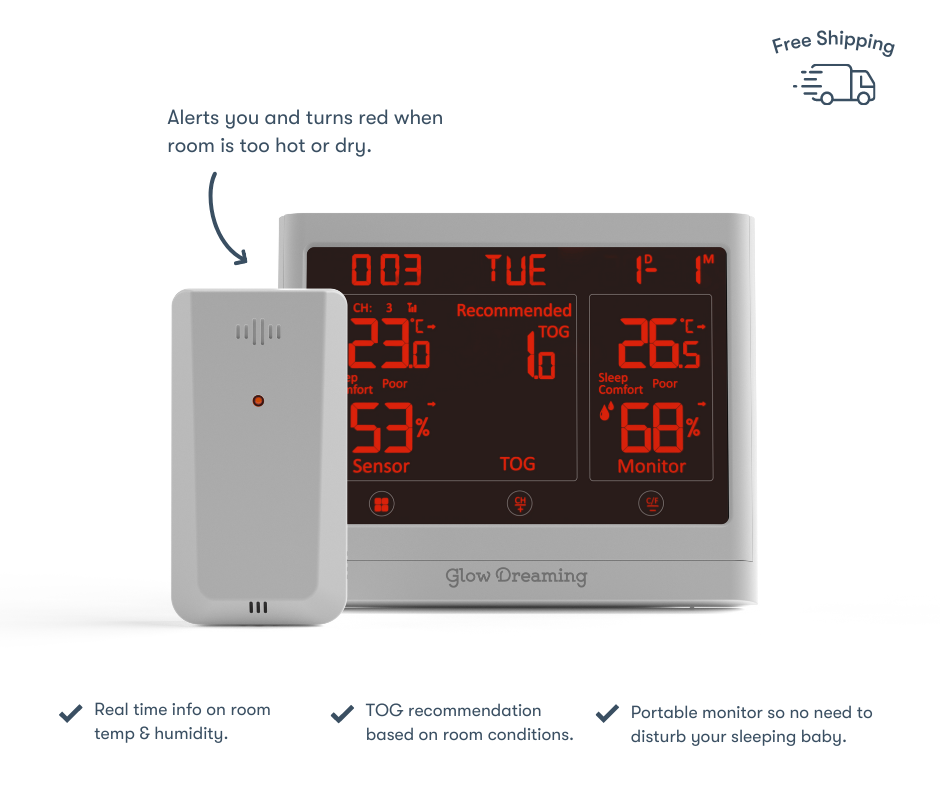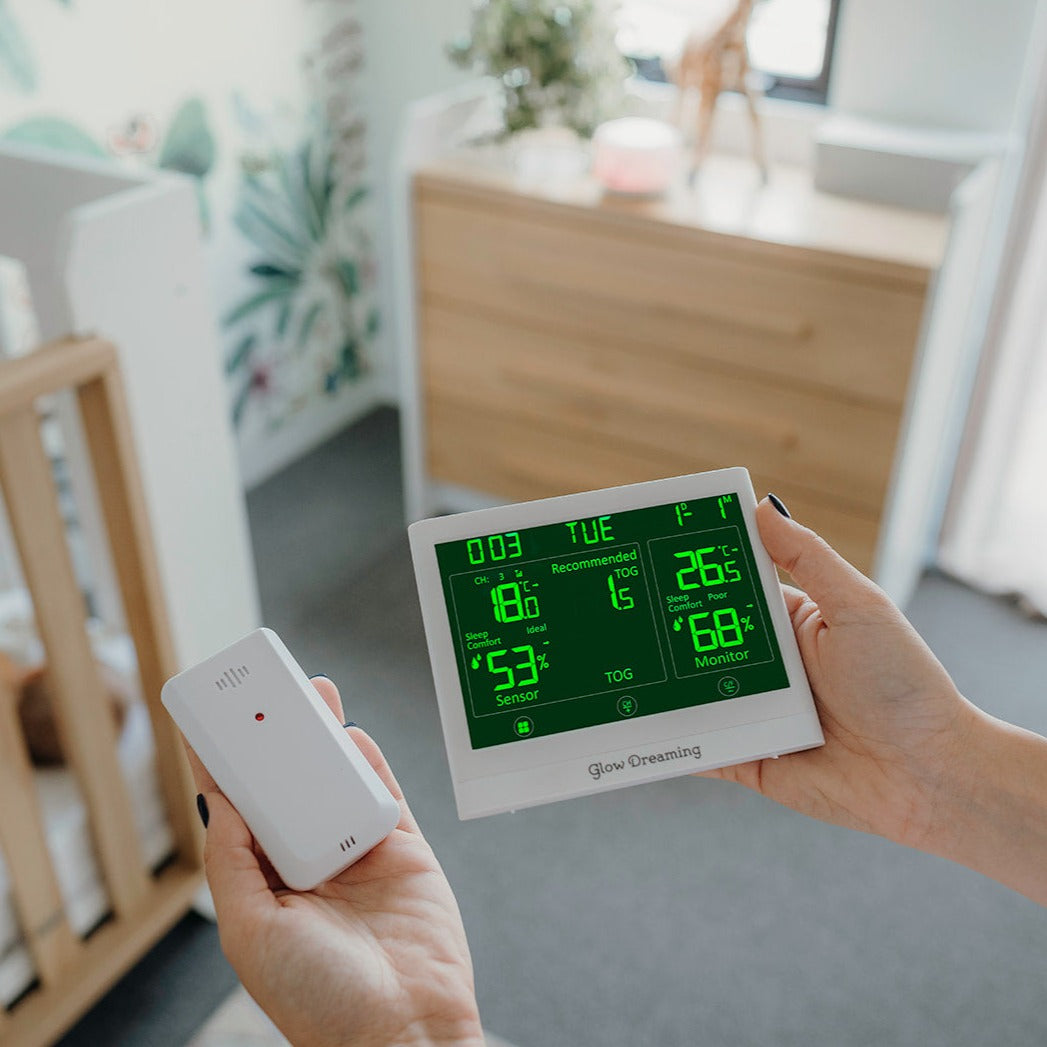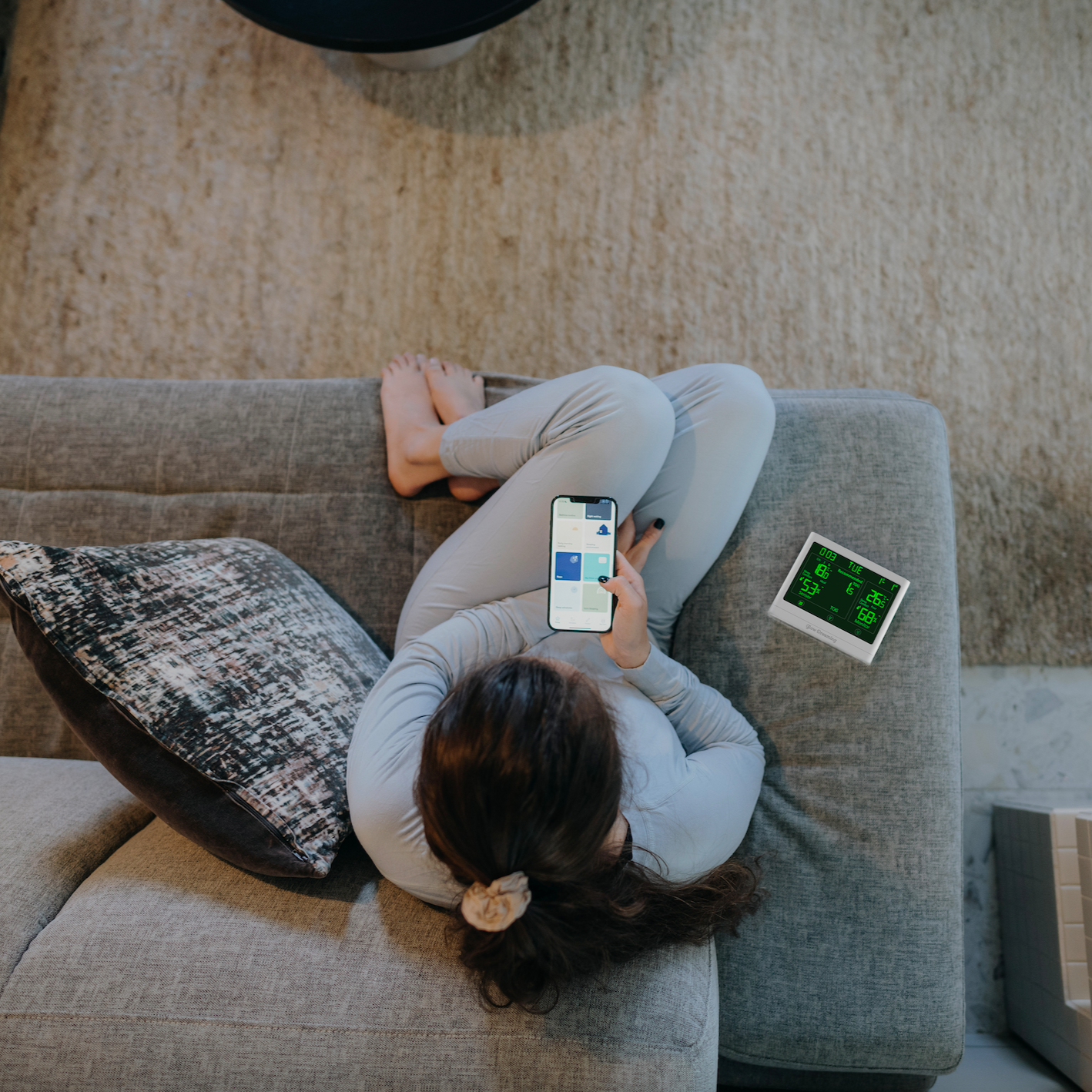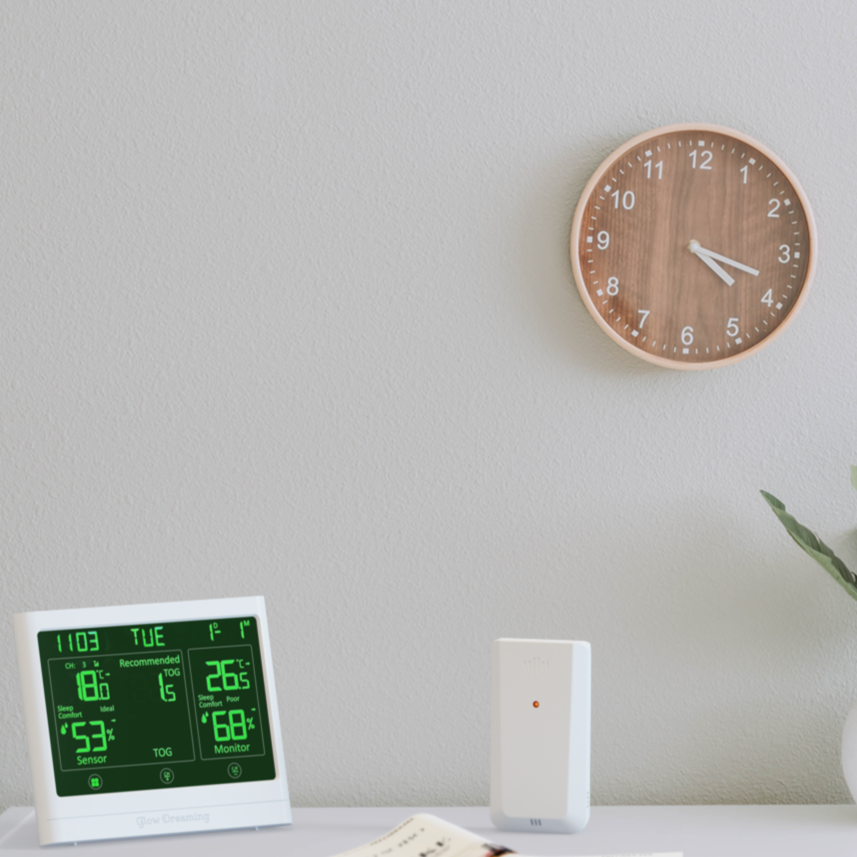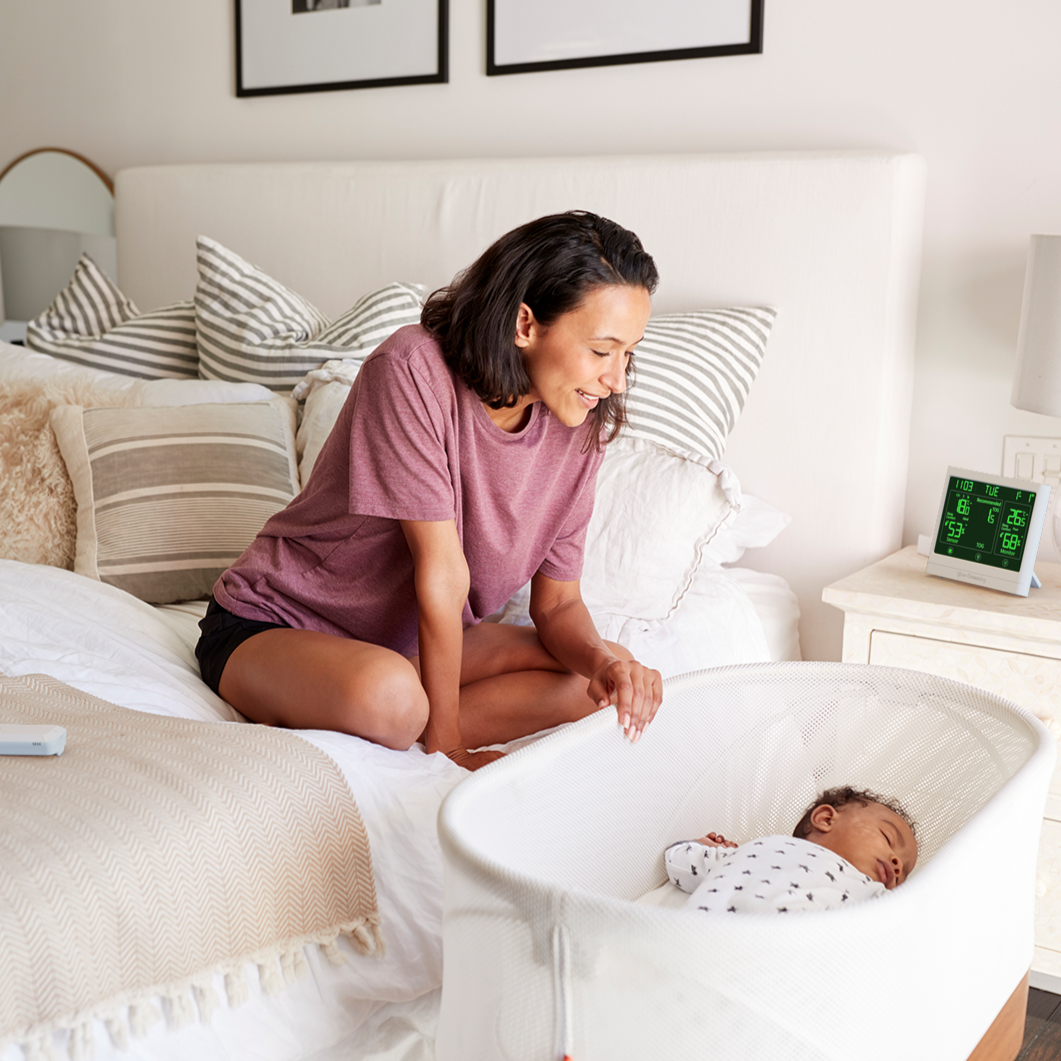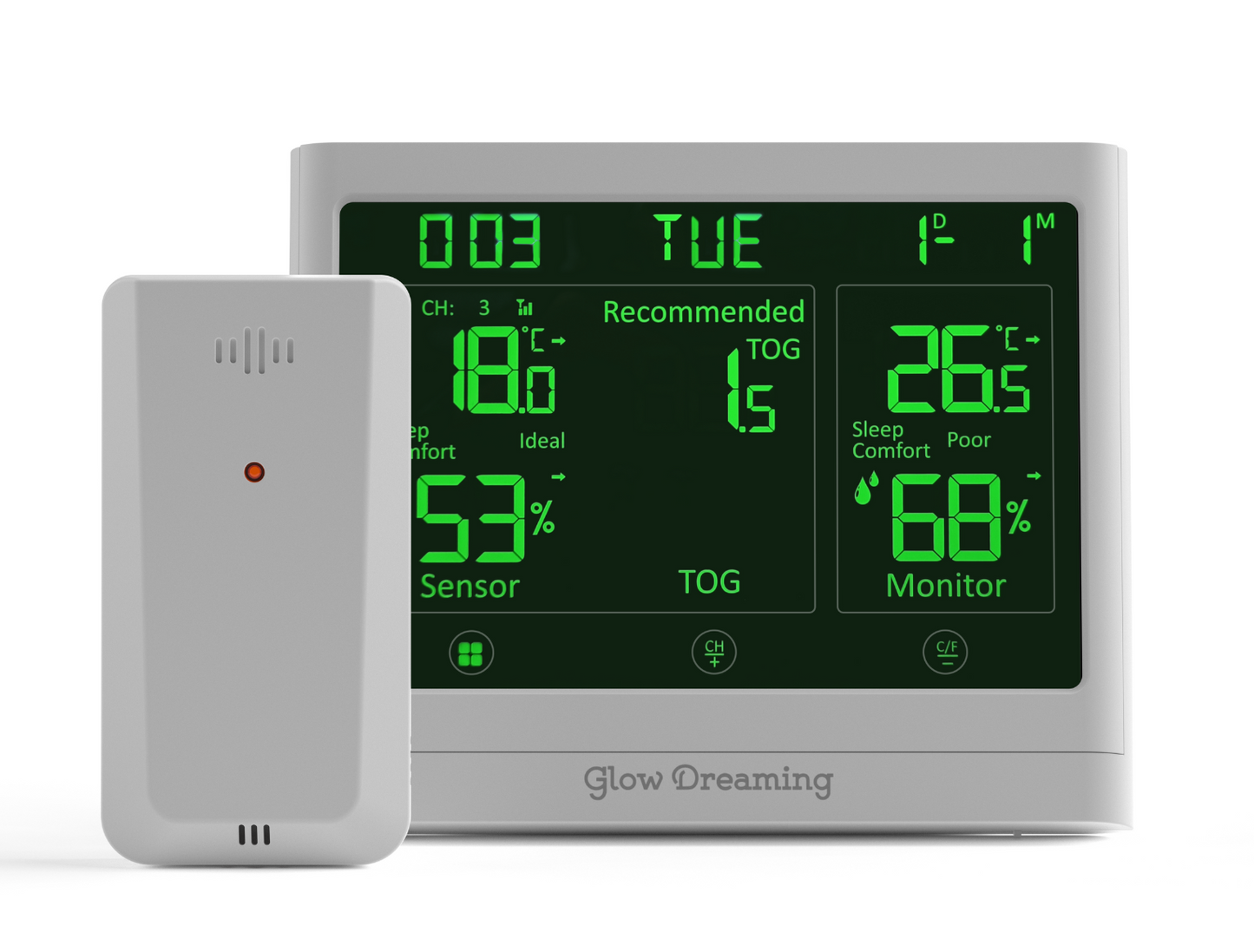 Helping you create the
perfect

sleep environment

everynight.
Temperature & Humidity
Temperature and humidity are the two most critical factors you can control in any baby's room, and the Glow Perfect Sleep Sensor allows you to monitor this from anywhere in the house, ensuring conditions are always conducive for a safe and comfortable sleep.
Advises how to dress your child.
Advises how to dress your child (TOG) based on room conditions and now the weather outside.
Portable Monitor
Monitor can go with you anywhere while baby sleeps, so you are always informed and never need to disturb your baby.
Remote Sensor
Remote sensor is small and can be safely placed in baby's room. Additional remote sensors can be purchased to monitor up to 3 rooms.
You may also like
Here are some other items we thought you might like...
FAQ
What is TOG? 

The TOG rating, short for Thermal Overall Grade, is a measurement of the warmth of blankets, sleeping bags and pj's. The higher the TOG rating, the warmer the product. You can use TOG ratings to quickly find the best clothing and bedding for your baby based on the room temperature each night. Dressing your baby in the right TOG will help prevent unnecessary night wakings and enable your baby to learn to sleep for longer stretches of time overnight. Check the best TOG to use each night with one glance at your Perfect Sleep Sensor.
What is the best way to dress my baby for bed? 
How many rooms can I monitor with this sensor? 

The Perfect Sleep Sensor includes one Room Sensor, but you can connect up to 3 room sensors in total if you need to monitor more rooms in your home. 
How do I increase the humidity in my space if the sensor says it's too dry? 

The Perfect Sleep Sensor helps you understand not only if the room is too warm or too cold for great sleep, but also lets you know if the humidity has dropped below the healthy levels that support deep, easy breathing. Viruses like cold and flu also thrive in cold, dry air, so we want to maintain healthy humidity to keep our families safe from illness. If the Perfect Sleep Sensor suggests the air is too dry, run the ultrasonic humidifier in your Glow Sleep Easy to restore the balance and ensure your baby can breathe easy all night long.